Elevate Aviation speakers are some of the most inspirational women in the industry. They are passionate about their careers and love to encourage women to follow their dreams and live the life they imagined. 
Fill out the form below to book us for your next event! This includes school events, career fairs, conferences, retreats – you name it! And, adapting to the "new normal", our speakers are available for virtual events as well.
We do not charge for any of our speakers groups; however, donations are welcome to support our programs. Pricing for keynote speakers vary based on your requirements. 
We have a number of keynote speakers available to speak at your event, conference, workplace training, or personal development workshop. Our speakers are women from all across Canada from a variety of aviation careers and can speak on topics including diversity, leadership, inspirational journeys, and personal empowerment. Please contact for pricing and availability.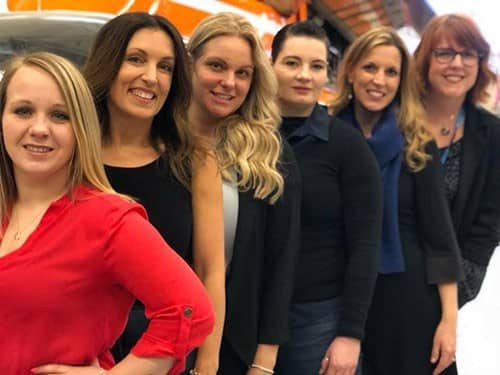 This is our most requested speaking group. We send 3-5 speakers from different careers inside the aviation industry to share their stories. This is a great way for people to learn about a variety of careers. We have pilots, aircraft maintenance engineers, air traffic controllers, flight attendants, military, aerospace engineers, and airside operations available.
If you are looking for a speaker from a specific career in aviation, let us know! These are ideal for in-school field trips. We will send a speaker to talk about their career, options within that field, and their own unique story. Any career within the aviation industry is available upon request.
Hosting a career fair or convention? We want to be there! We will bring a booth to your event along with Elevate representatives who will provide information on careers in aviation, answer questions, and share our programs.  
Elevate Aviation offers a variety of options to suit your needs – please fill out the form and let us know what you are looking for. All speakers are free of charge, but donations are greatly appreciated as we invest into the future.